LINCOLN – Today, Dr. Paul Turman, Chancellor of the Nebraska State College System advocated on behalf of the State Colleges as part of the hearing on the American Recovery Plan Act (ARPA) funding opportunities. 
The Chancellor worked with leadership at Chadron, Peru, and Wayne State Colleges to identify viable projects using existing Treasury Guidance. More than $110 million in projects surfaced and the System prioritized a list of $44.3 million across five broad categories.  These include: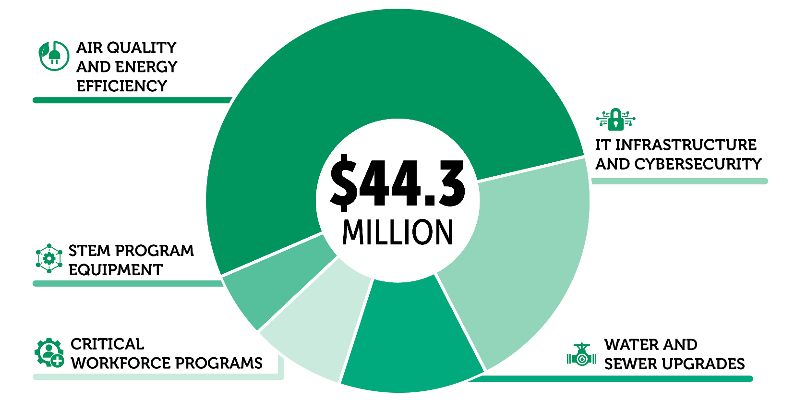 Air Quality and Energy Efficiency –
$23.7 million in geothermal and HVAC upgrades to State-owned buildings, a solar field, heating, and chiller plant upgrades.
IT Infrastructure & Cybersecurity –
$8.9 million in cybersecurity improvements, wireless and fiber network upgrades at Chadron State, Peru State, and Wayne State.
STEM Program Equipment –
$2.5 million investment in equipment to support STEM programs at Chadron State, Peru State, and Wayne State.
Critical Workforce Programs –
$3.6 million in one-time expenses for teaching facility enhancement and workforce program expansion (criminal justice, healthcare) that target workforce shortage areas in Nebraska.
Water and Sewer Upgrades –
$5.6 million in upgrades to plumbing and water line improvements at Chadron State, Peru State, and Wayne State.
Details related to these project requests are included in the project descriptions, where each of the five categories is operationalized and linked to Treasury guidance.  Aligned requests are then described for each.
Investment Impact for Nebraska
Projects were selected based on their alignment to the five priority areas above while also ensuring that they each had a lasting impact on Nebraska through the investment of federal funds by the Legislature.  Each project aligns well with one or more of the following investment outcomes for Nebraska.
Long-Term Reduction in Costs – Investing in energy efficiency upgrades – emphasizing renewable energy – presents an opportunity to generate long-term cost savings for students and Nebraska.  Expanding the geothermal, solar energy, and natural gas footprint at each College aligns with existing infrastructure investments and provides an avenue for more efficient and healthy air handling systems for students.
Workforce & Economic Development – The pandemic has increased the need for investments in several key workforce shortage areas in the State, including health care, health administration, STEM Education, and law enforcement.  Program expansion in these critical areas seeks to increase students enrolled in these essential workforce areas, and investments in state-of-the-art equipment improves the educational experience for new and existing students.
Student Success & Safety – An evolution in the teaching and learning processes required new instructional technologies to foster student access as a result the pandemic.  Expanding keycard access points provides controlled access to buildings and increases security for students and staff. Additionally, increased cybersecurity threats to faculty, staff, and student data warrant critical investments in common cybersecurity infrastructure to protect these data into the future.