LINCOLN – Governor Pete Ricketts has appointed Brett Hilbers of Valley, Sullivan Jones of Papillion, and Matthew Leininger of Auburn to serve as student trustees on the Nebraska State College System Board of Trustees. They will serve a one-year term (2022-2023 academic year) and represent Chadron, Peru, and Wayne State College students.
"The Trustees value the insight and student perspective these young leaders bring to the Board, and it is my honor as Chair of the Board of Trustees to welcome the new Student Trustees," said Jess Zeiss, Chair of the Board of Trustees.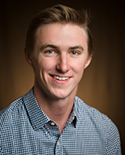 Sullivan Jones – Chadron State College Student Trustee
Jones, a senior at Chadron State College, is a double major in criminal justice and legal studies and minoring in philosophy.  He serves on the student senate and is the president of Frontier Liberty Organization. He was a wrangler at Chadron State Park and past news editor for The Eagle.   Sullivan stated in his application that "I want my fellow students to succeed and be happy with their decision to improve themselves, and I am humbled by the privilege of representing their ideas and concerns as Chadron State's student trustee."  
Sullivan is the son of Jeff and Sally Jones of Papillion, Nebraska.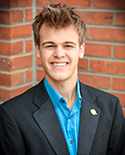 Matthew Leininger – Peru State College Student Trustee
Leininger a senior at Peru State College, is majoring in biochemical science. Matthew is the recording secretary of the student senate, vocal leader in the concert choir, a worship leader in SDF and the Auburn Berean Church, and a member of various campus organizations. When discussing his appointment, Matthew stated, "Being a student trustee will allow me to be the voice of Peru State students, positively impact their lives, and promote the betterment of the institution and all of the State Colleges."
Matthew is the son of Philip Leininger and Rebecca Leininger of Auburn, Nebraska.
Brett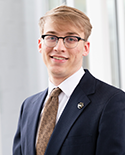 Hilbers – Wayne State College Student Trustee
Hilbers, a senior at Wayne State College, is double majoring in biology and psychology and minoring in philosophy. He has served on the Student Senate, president of Psi Chi (Psychology Honor Society), vice president of Pi Gamma Mu, treasurer of Wildlife Society Chapter, honors program, and student representative on the Academic Support and Advising Taskforce.  When asked about his role as a Student Trustee, Brett stated, "I see no greater honor as a student than to serve in the role of student trustee and promote the advancement of the state and college system that I hold so dear."
Brett is the son of Gary and Mary Beth Hilbers of Valley, Nebraska.